Rancho Del Mar Physical Therapy is a private practice small business. We pride ourselves on quality of care for patients. At Rancho Del Mar, we perform thorough evaluations identifying all physical factors contributing towards the problem. An individual treatment plan and program will be designed for each patient as we believe everyone has unique needs in order to achieve optimal results. We emphasize the importance of manual therapy, including joint mobilization, soft tissue mobilization, stretching, taping, trigger point release, myofascial release, combined with therapeutic exercise to improve function and quality of life.
Rancho Del Mar is passionate about rehabilitation and restoring function, which translates into a positive, energetic and satisfactory experience for all our patients.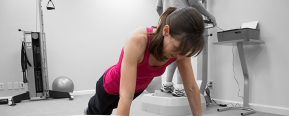 We pride ourselves on utilizing modern rehabilitation equipment. The AlterG anti-gravity treadmill allows us adjust the percentage of body weight to allow each individual to walk with decreased pain therefore improving daily function and activities. In addition, it allows top tier athletes to maintain cardiovascular fitness and improve endurance levels while preparing for marathons and triathlons without additional stress on the body.